With the arrival of spring comes the sun and the heat, the longer days are combined with a more pleasant temperature and we feel like enjoying them outside the home. What better way to do it than with a perfect barbecue?
Visualize it: a spectacular day, without a cloud in the sky and with the sun shining brightly. No matter where you are, patio, garden or terrace. You are having a great time with your loved ones, you have your favorite drink in your hand and that unmistakable smell comes to you. It smells of embers, fire and delicacies cooking. You already feel that special flavor in your mouth….
That is the essence of the perfect barbecue, do you want to achieve it? Pay attention to this post, we will tell you all our secrets so that everything goes perfectly. We teach you how to prepare the grill, we give you tips on the best appetizers and starters, we help you choose the meat and we tell you how to accompany it with the best pairing. Take note!
Grill preparation
If we want to get the perfect barbecue we will have to take many factors into account, from having the ideal time to the quality of the ingredients. But, without a doubt, there is a key element: the preparation of the grill.
The first point is to light the barbecue. The best option is to stack a bunch of dry sticks and light them using newspaper. When it has started to burn, it is carefully covered with pieces of charcoal, creating a shape reminiscent of a volcano. Once it is ready, we will finish adding the rest of the carbon that we will need. eye! It is important to leave gaps so that oxygen can do its job and the fire stays alive.
Preparing some good coals is an art since we cannot start cooking until they are ready. That is, we will have to wait between 60 and 75 minutes until we see them covered by that characteristic grayish or whitish layer.
Why is it important to wait? Because if you place the meat on the grill before time, it will begin to release its fat on the embers, starting flames that will burn everything in its path. Patience!
Appetizers and starters
As we have explained before, getting the grill ready to start cooking our meat will take between 60 and 75 minutes. That is why it is important to have an aperitif to be able to whet your appetite and to enjoy between servings.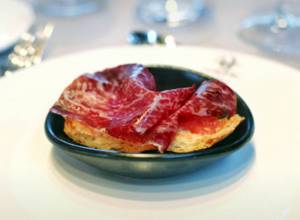 In this case, we recommend you opt for a light dish that distracts your hunger a bit but doesn't fill us up too much. For example, you can start with a salad or a very fresh gazpacho. Also, you can surprise your attendees with some small delicacy like Wagyu caviar or a little Wagyu foie.
While your guests are enjoying the appetizers, we recommend you start cooking the starters, as they usually need more cooking time. You can include dishes such as Wagyu blood sausage , chorizo, sausages, Moorish skewers… A trick: to prevent them from getting too toasty on the outside but raw on the inside, separate the grill about 15 centimeters from the embers to make them cook little by little .
After the appetizers and entrees, it is the turn of the kings of barbecues, the most succulent pieces of meat. Do you know which cuts to choose?
When in doubt, a piece that is suitable for any situation and method of preparation is the Wagyu sirloin. This cut is located next to the ribs and is the most tender and succulent part of the animal. If you want to get the best result, let it cool for a few hours before cooking and add flaky salt just after cooking.
The loin -both high and low- is one of the star pieces in barbecues. It is found in the entrecote area and is highly appreciated for its tenderness and juiciness. The Low loin is more tender than high loin as it is obtained from the heart of the piece, which is why it is our favorite for a perfect barbecue.
But without a doubt, in your barbecue you cannot miss a good Picanha. This piece is considered the star of Brazilian barbecues and has the honor of being one of the best cuts when it comes to grilling meat. This piece corresponds to the tip of the hip, one of its faces being covered by a shell of fat, which gives it an extremely delicious flavor and a soft and juicy texture. Fat juices run off the meat as it cooks, making it more tender and flavorful.
To achieve the best results and serve the best meat on your barbecue, we recommend that you avoid excessively high temperatures and avoid excessively checking if it is done. Simply leave your tenderloin or tenderloin still on the grill for 10 or 15 minutes, depending on how done you want it to be, so that it cooks evenly.
Complements and pairings
Of course, we can not forget about the drink. The best complement for a rich and pleasant meal is accompanied by a good pairing. Never forget to have a nice pitcher of cool water on hand to beat the heat, especially for cooks. A trick: if you want to give it a special touch, add slices of lemon, strawberries or red fruits to your pitcher of water; the result will not leave anyone indifferent.
On the other hand, what better way to round off a perfect meal than a good wine? Without a doubt, we advise you to bet on a good glass of red wine to accompany the meat. For example, you can opt for a bottle of Garmendia Aged 2016, the combination of flavors on the palate will be incredible.